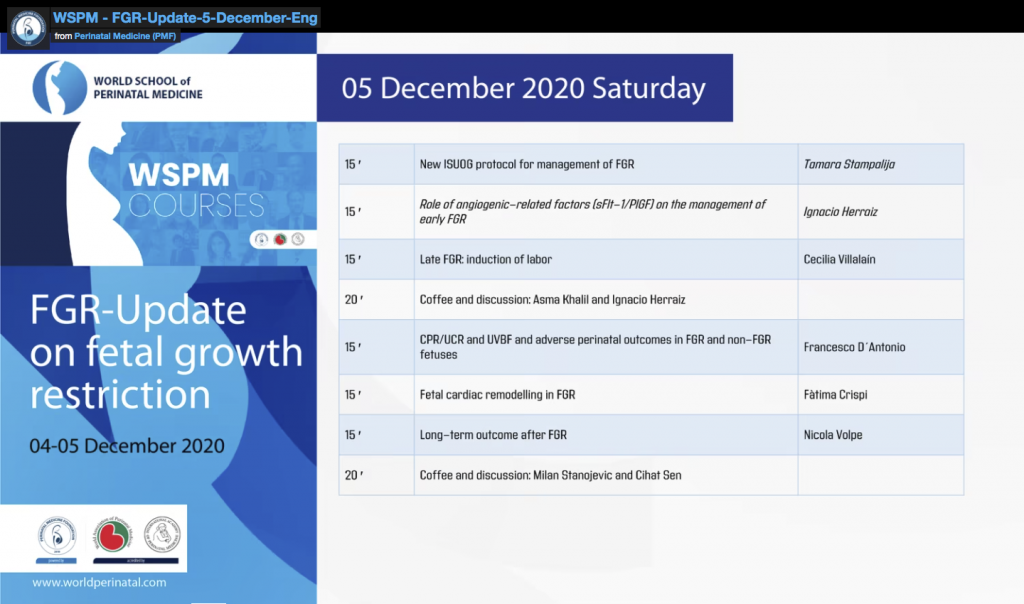 05 December 2020 Saturday
"FGR-Update on fetal growth restriction 04-05 December 2020" is the topic for this course on 11-12 December, 2020. I am grateful that Ignacio Herraiz has prepared the scientific program in a good way as the coordinator of this course. I am hoping that it will be useful for your scientific activity and clinical practice.
It is free of charge course.  You need to register in advance. Hope to see you online.
Scientific Program
04 December 2020 
Friday
Timezonezone
Mexico 07.00, New York-Peru 08.00, Baltimore-Chile-Brazil-Argentina 10.00, Nigeria 14.00, UK 13.00, Rome-Madrid 14.00, Istanbul 16.00, India 18.30, Indonesia 20.00, Beijing-Manila 21.00, Japan 22.00
(convert to your own time zone)
 
Introduction
Cihat Sen – Ignacio Herraiz
 
15′
Fetal growth restriction: a long road ahead
Ignacio Herraiz
15′
Fetal biometry: performance and interpretation
Fabricio Da Silva Costa
15′
Fetal-maternal Doppler: performance and interpretation
Daniel Oros
20′

Coffee and discussion:

Panos Antsaklis and Ana Daneva

 
15′
Early and late-onset subtypes of placental dysfunction
Anne C. Staff
15′
Early FGR: when to suspect a non-placental origin
Francesc Figueras
15′

How to detect late FGR

 

Francesc Figueras
15′
Delphi definition of early and late FGR
Sanne. J. Gordijn
20′

Coffee and discussion:

Ali Sungkar and Valentina DeRobertis

 
05 December 2020
Saturday
Timezonezone

Mexico 07.00, New York-Peru 08.00, Baltimore-Chile-Brazil-Argentina 10.00, Nigeria 14.00, UK 13.00, Rome-Madrid 14.00, Istanbul 16.00, India 18.30, Indonesia 20.00, Beijing-Manila 21.00, Japan 22.00

 
 
 
 
15′
New ISUOG protocol for management of FGR
Tamara Stampalija
15′
Role of angiogenic-related factors (sFlt-1/PlGF) on the management of early FGR
Ignacio Herraiz
15′
Late FGR: induction of labor
Cecilia Villalaín
20′

Coffee and discussion:

Asma Khalil and Ignacio Herraiz

 
15′

CPR/UCR and UVBF and adverse perinatal outcomes in FGR and non-FGR fetuses

Francesco D´Antonio
15′
Fetal cardiac remodelling in FGR
Fàtima Crispi
15′
Long-term outcome after FGR
Nicola Volpe
20′

Coffee and discussion:

Milan Stanojevic and Cihat Sen

 
English, Spanish, Russian