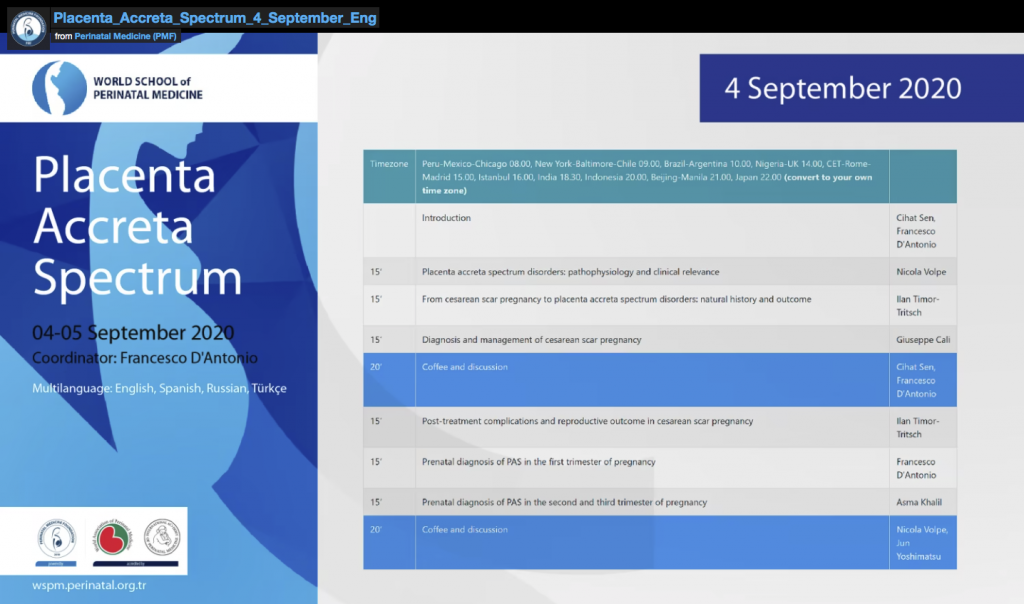 English
Spanish
Russian
Türkçe
English
Spanish
Russian
Türkçe
English
Spanish
Russian
Türkçe
English
Spanish
Russian
Türkçe
After the Covid-19 outbreak, all training activities throughout the world is stopped. With this circumstance all activities have been turned to online courses and webinars at least at the moment. During this period, we had a webinar on Covid-19 in pregnancy with the light of WAPM Covid-19 Registry on the 9th of May, 2020. Another online courses on "Fetal Brain" was organized at 20-21 July 2020 and on "First Trimester Examination" at 16-17 July 2020 with a great success.
"PAS Placenta Accreta Spectrum" is the topic for upcoming online course. I am grateful that Francesco D'Antonio has prepared the scientific program in a good way as the coordinator of this course. I am hoping that it will be useful for your scientific activity and clinical practice.
It is free of charge course. If you have already registered for the previous courses, you have to just login. Otherwise you need to register in advance. Hope to see you online.
Scientific Program
04 Sept 2020 Friday
 
 
 
Timezone
Peru-Mexico-Chicago 08.00, New York-Baltimore-Chile 09.00, Brazil-Argentina 10.00, Nigeria-UK 14.00, CET-Rome-Madrid 15.00, Istanbul 16.00, India 18.30, Indonesia 20.00, Beijing-Manila 21.00, Japan 22.00
(convert to your own time zone)

 
Introduction
Cihat Sen, Francesco D'Antonio
 
 
 
 
15′
Placenta accreta spectrum disorders: pathophysiology and clinical relevance
Nicola Volpe
15′
From cesarean scar pregnancy to placenta accreta spectrum disorders: natural history and outcome
 Ilan Timor-Tritsch
15′
Diagnosis and management of cesarean scar pregnancy
 Giuseppe Cali
20′
Coffee and discussion
 Cihat Sen, Francesco D'Antonio
 
 
 
15′
Post-treatment complications and reproductive outcome in cesarean scar pregnancy
 Ilan Timor-Tritsch
15′
Prenatal diagnosis of PAS in the first trimester of pregnancy
 Francesco D'Antonio
15′
Prenatal diagnosis of PAS in the second and third trimester of pregnancy
 Asma Khalil
 20′
 Coffee and discussion
 Nicola Volpe, Jun Yoshimatsu
 
 
 
20′
 
 
05 Sept 2020 Saturday
Timezone
Peru-Mexico-Chicago 08.00, New York-Baltimore-Chile 09.00, Brazil-Argentina 10.00, Nigeria-UK 14.00,
CET-Rome-Madrid 15.00, Istanbul 16.00, India 18.30, Indonesia 20.00, Beijing-Manila 21.00, Japan 22.00
 
 
 
 
15′
Ultrasound staging of PAS disorders: correlation between prenatal imaging and surgical outcome
 Giuseppe Cali
15′
Surgical
staging of PAS disorders: correlation with prenatal imaging 
Sally Collins
15′
Prenatal
diagnosis of PAS disorders in posterior placenta
 Francesco D'Antonio
 20′
 Coffee and discussion
 Oluş Api, Valentina De Robertis
 
 
 
 
 
 
15′
Role of MRI in PAS disorders
 G. Masseli
15′
Timing and management at delivery of women with PAS
Alireza A Shamshirsaz
15′
Surgical management of PAS disorders
 J. Palacios-Jaraquemada
20′
Coffee and discussion
 Ana Bianchi, Amos Grunebaum
English, Spanish, Russian, Türkçe